Arcology World
Check out the Arcology World Random Character Generator!
Thrive and Adapt
In a distant future, after humans have overthrown the blight of capitalism, the Earth is a lush and vibrant world teeming with life. Decentralized communities of all sizes dot the landscape where they adapt and thrive, not as masters of nature and the world around them, but living in harmony with it.
You are members of one such community, working together not only to adjust to an ever evolving and changing ecosystem, but to care for one another and thrive as a community.
Due to the Seeding, a mutating retrovirus released over a century ago to reverse the damage done to the Earth by greed and capitalism, the plantlife of the world not only grows rampantly and often unpredictably, but mutates into wondrous and completely new and alien life. Same to, do the beast and animals of the world change, adapt and mutate with each new generation.
Arcology World
"Solarpunk, by its nature, is adaptive, not resistive. In permaculture, there is the saying "the problem is the solution," which means that any problem you might have is only a problem because you haven't thought of a way to make it useful."

For example: you're growing a crop of lettuce, but you discover that there are slugs everywhere! Now, a normal person would see this as a problem which needs to be eradicated, so they go get some poison to kill the slugs. Now they just have a new problem: poisoned, albeit slug-free, lettuce. A solarpunk would see these slugs as a problem too, but not in the same way. The problem, she might see, is not an abundance of slugs, but a lack of ducks. She gets some ducks, the ducks eat the slugs, and now she has healthy lettuce and ducks to boot!
Arcology World is a mostly nonviolent pbta game of Mutual Aid, Community and Adaption.
The focus of the game will often be split between engaging in social drama and managing crisis. A Crisis is managed by Mutual Aid, ensuring your community will weather the immediate affects of the Crisis, while you also strive to figure out how to adapt your community and life style to accommodate the change in circumstance.
Community Copies are available!

Launch with 25 31 Community Copies.
Every Sale is +1 Community Copy.
Every Rating is +1 Community Copy.

If you plan to leave a less than 4-star rating, please leave a review on what you think could improve it.
Please do not leave a bad rating if you don't like pbta games, solarpunk as a genre or non violent community focused games, or any other working as intended features, just because they are not to your preference.
Feedback is always appreciated!
Purchase
In order to download this game you must purchase it at or above the minimum price of $10 USD. You will get access to the following files:
Arcology World 1.1.pdf
1 MB
Community Copies + Pins
Support this game at or above a special price point to receive something exclusive.
Pay It Forward
If you would like to add a community copy or previously claimed a community copy and for any reason you decide you'd like to pay for it (which please know that this isn't something you have to do, community copies are there for you to claim and keep), use this option and I'll drop an extra community copy into the pile to replace the one you claimed and help someone else check out the game!
Arcology World Logo Acryllic-Pins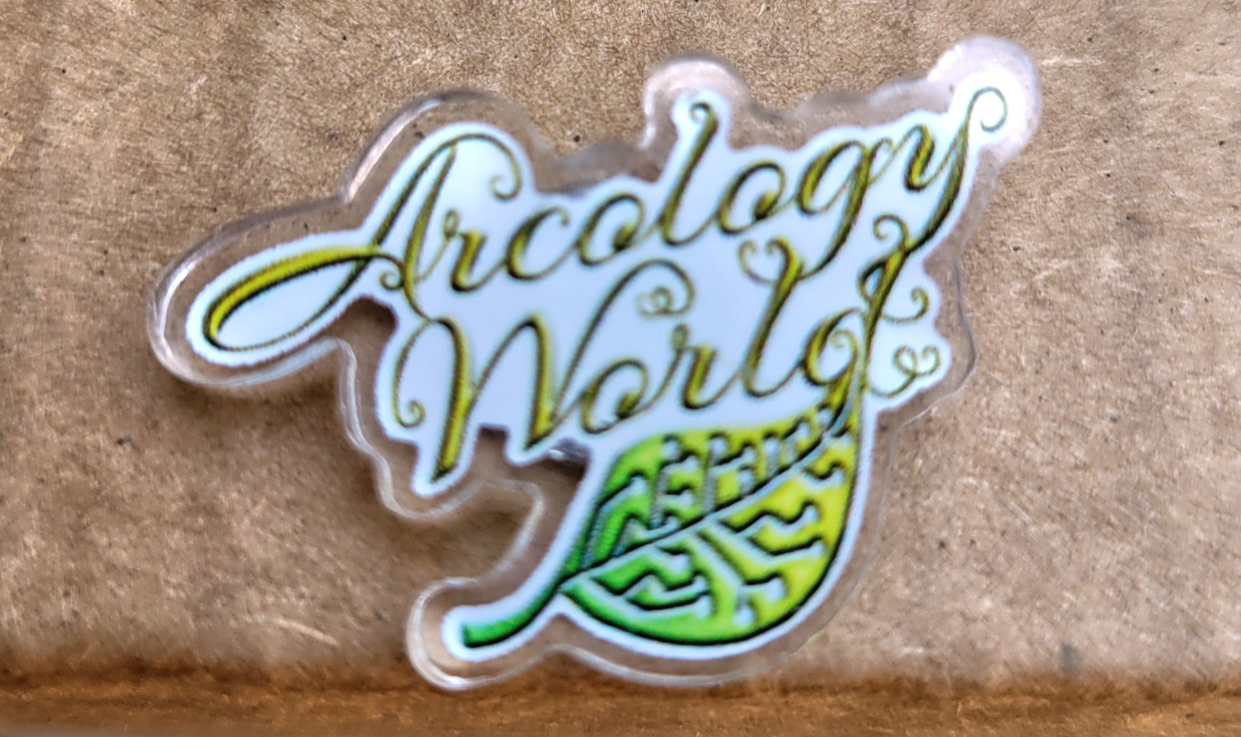 Price includes shipping shipping within the USA. Any international customers will need to pay additional shipping before shipping is determined. Which will likely to be $5-$10 additional. Please contact me if you'd like to discuss an order before buying.
These pins are 1.25″ at their widest point, printed on an acrylic material and cut to shape. They are affixed to the a single-post backing by adhesive. By default they come with a fairly secure butterfly clasp, but if you'd like to, you may upgrade to a barrel locking pin backer for an extra $1. (Need information on the various pin backings? check my short youtube video on it here)
Each pin comes with a plastic protector that should be peeled off (it can be a lil difficult to get off, but its there!)
Because of the construction, these pins are not recommended for high traffic wear and use.
Free Copy
If you're unable to budget for a copy of Arcology World priced as listed, please claim one of these free copies provided for the community.
Download demo
Comments
Log in with itch.io to leave a comment.
This game is gorgeous and evokes some very strong emotions, I wish more games were written like this!